1-800-559-1983
Freedom Business School Articles
ICC Certification and Testing
---
Posted on 02/15/2017

Here we share some information about ICC Certifications are the market leader and are highly regarded in the industry and can help advance your career.

ICC Certifications are the market leader and are highly regarded in the industry. According to a recent survey of more than 2,400 members and certificants, the value of ICC Certifications are greater than the cost and many certified employees are paid more than their non-certified counterparts. Demonstrate commitment to your career by pursuing an ICC Certification.

ICC Certification can help advance your career. Many certificants earn multiple certifications (see Most Commonly Bundled ICC Certifications graphic below), particularly as their careers advance. The majority of certificants said the value of an ICC Certification is greater than or equal to the cost of earning and maintaining it. Demonstrate your knowledge and understanding of the codes—pursue an ICC Certification today.
Code professionals typically follow a similar progression in ICC Certifications. Here's how many certificants progress.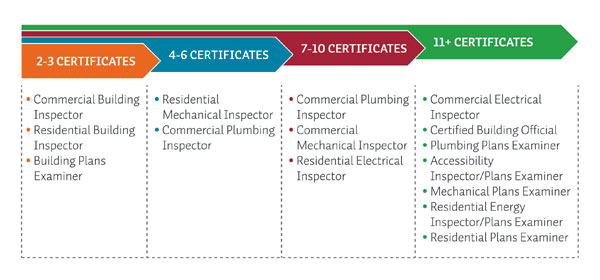 Registering for a Safety Professional examination is quick and easy, and can be done entirely online if you choose. Quick info, including the exam outline and examination information bulletin, can be found at the following link
http://www.iccsafe.org/education-certification/certifications-and-testing/national-exam-info-registration/

NOTE TO ALL CANDIDATES: It is your responsibility to read and understand the applicable Exam Information Bulletin for your exam in its entirety prior to registering for an exam. The answers to most questions asked by candidates can be found in the bulletin, including all exam-related policies, approved references, content outlines, and more.

Freedom Business School (FBS) offers Preparation course designed to help students pass Residential Building Inspector Certification (B1) Exam. This course presents a comprehesive review of the first eleven chapters of the Internatioal Residential Code (IRC) which comprise the B1 Exam topics.
All information on the course is available on our website at https://freedombusinessschool.com/courses/building-inspector-certification
We specialize in Home Study programs. Therefore, our course materials include everything students need to complete the course studying at home or office at their own pace. Our Student Support associates are always available to answer any questions that come up along the way.
Our students enjoy passing scores that are some of the highest in the industry.
Don't hesitate to contact us for any additional info or questions. We are looking forward to helping you obtain your Building Inspector Certification.
›› Add Your Comment